We offer a dedicated solution to any label requirement your business has.
We provide a comprehensive range of self adhesive labels in a variety of materials, coatings and sizes. We offer plain, single colour or full colour options with fixed or variable data, including barcodes. Any shape and any size and an array of finishes.
We have a vast array of standard sizes as well as being able to produce totally bespoke size labels. As well as labels for thermal transfer and direct thermal printers on rolls and fanfolded, plus A4 sheet labels for laser and inkjet printers.
All label applications are catered for: box end, address, pallet racking, pat test, asset, warning, security, safety, sequentially numbered, foil printed, school reward, wine, beer and food, jewellery and cosmetic labels. As well as laminated and domed labels for enhanced presentation.
Stickers are a novel way for clients to add some fun to their marketing, whether they are to be handed out at events or exhibitions, used for packaging or special offers.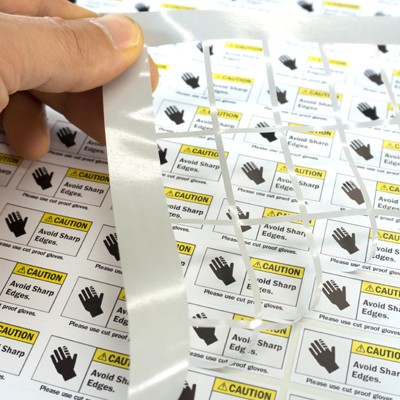 Self Adhesive Labels
We offer a full range of self adhesive labels. Whether you require just a few stickers or hundreds of thousands of labels Impressions can offer a cost effective solution.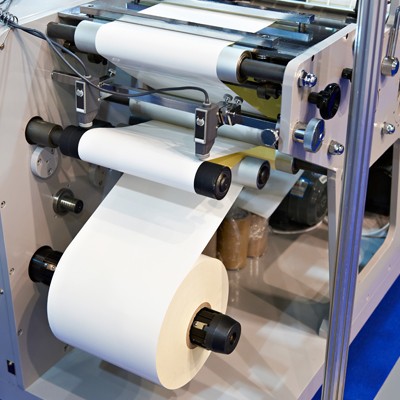 Flexo Labels
Flexo, or to give it it's full name Flexographic, label printing is the ideal solution for label printing when high volumes are required. Flexo label printing uses conventional wet ink and printing plate technology to transfer an image or text onto the label material.
Flexo printing can produce simple single colour labels right through to complex multicolour labels. An initial origination cost for the plates is required and there is a set up and wash down cost for each run but once running the process is very economical and can therefore cater for any higher volume label requirements.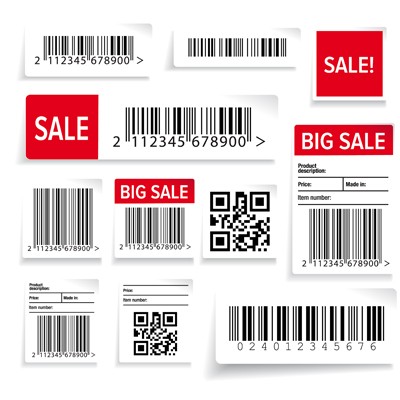 Digital Labels
Digital labels open up whole new markets for self adhesive labels. Providing full colour (CMYK) print for any quantity of labels. Traditional label printing meant that a printing plate was required for each colour. Process colour plates were often more expensive so just to have a full colour label was often £200 in just origination. There was then the make ready and wash down costs which meant that full colour was just not an option for short run labels.
Digital labels have changed that and mean that full colour labels are available in any quantity. Because there are no printing plates required the previous origination costs are no longer required. And because the process is digital there is no make ready or wash down required. Digital labels have enabled full colour labels to be viable for all quantities.
Another benefit of digital labels is variable data printing and personalisation. Again because the images are produced digitally and not from printing plates each label can contain different data, providing anything from simple numbering to full personalisation of labels. Variable data includes numbering, text and/or barcodes.
Digital print full colour labels can be supplied on sheets or rolls or as cut individuals.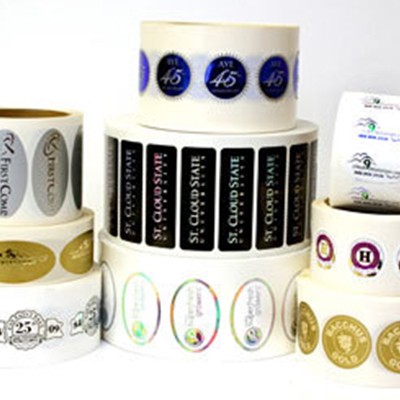 Hot Foil Labels
For shorter run labels when full colour is not required, hot foil labels are an ideal solution. Hot foil labels are printed using the same process as traditional foil blocking ie the gold print on the outside of diaries. There is now however an immense selection of colours beyond the original gold and silver available for hot foil printing so colours can often be closely matched.
Hot foil labels have a low set up cost and are available in all sorts of paper and synthetic materials. The print needs to be a solid colour, so tints are not available, however sequential numbering is. Over lamination is also an option.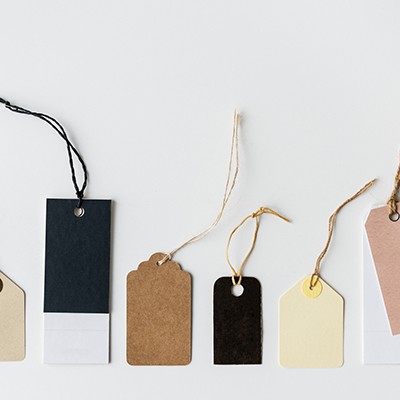 Plain Labels
We offer a wide range of plain labels on A4 sheets for both inkjet and laser printers.
We also supply a choice of labels on rolls for both thermal and thermal transfer printers.
All available in short run as well as large volumes.